Die Bilder der diesjährigen BANANE-LAN 2019 sind Online!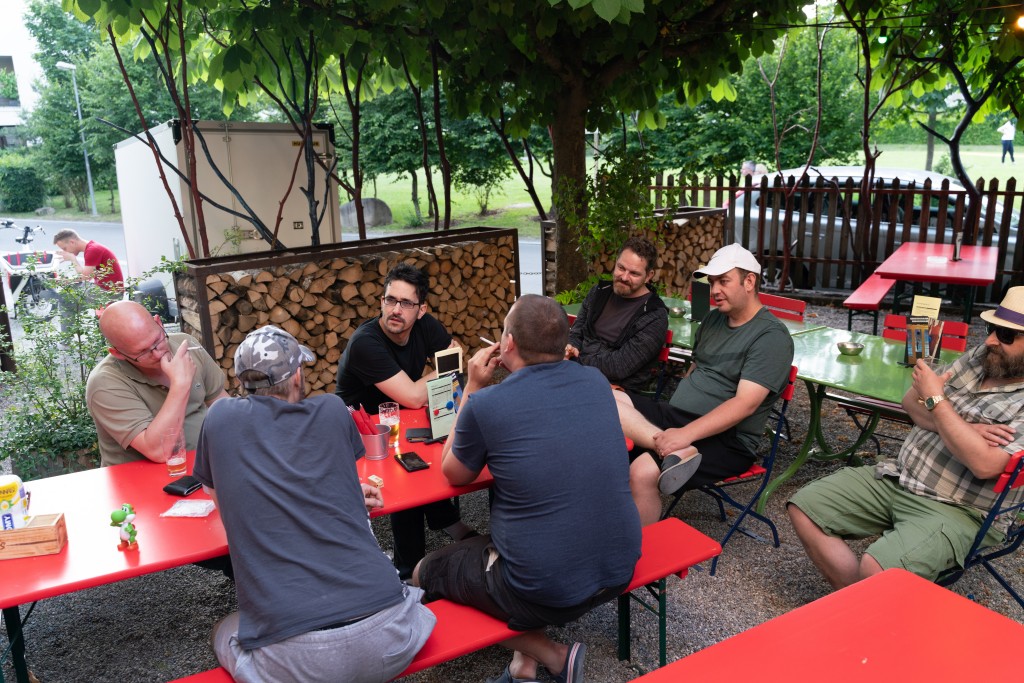 s-master
https://www.skv-net.ch/mobilegallery/gallery.php?a=426
Gurit
https://www.skv-net.ch/mobilegallery/gallery.php?a=427
Warum heisst die LAN eigentlich noch FINAL-days? Hat es früher nicht schon eine FINAL-days LAN-Party gegeben?
Dies ist ganz einfach zu beantworten. Ja es gab früher bereits eine FINAL-days!
Seit Weihnachten konnten wir zum zweiten Mal wieder zurück ins Salon Rouge des Eisenwerks in Frauenfeld.
Dort hatte das Core-Team Banane, Cereal und weitere Leute früher die öffentliche FINAL-days veranstaltet. Und deshalb heisst unsere LAN jetzt auch wieder FINAL-days. Da wir wieder back to the roots zur Location gehen konnten wo unsere Rossheit angefangen hat.
Bei unserer LAN-Party ist es Tradition den Fokus mehr aufs Essen und gemütliches beisammen sein zu setzen, als kompetitives Gaming.
Deshalb nahmen wir uns auch die Zeit dies entsprechend vorzubereiten. Einen Abend vor der LAN-Party haben wir uns bei Banane zu Hause getroffen und haben das Fleisch für das Pulled Pork vorbereitet.

Am Freitagmorgen sind wir dann in den Growa nach Winterthur gefahren und haben für alle eingekauft. Denn unsere LAN ist eine all-inclusive LAN! Man bezahlt einen Fixbetrag und dafür ist alles dabei: Essen, Trinken (+Alkohol) und der Beitrag zur Location.

Um 14:00 Uhr konnten wir dann die Location beziehen und haben die Tische platziert, den Strom und das Netzwerk bereitgestellt.

Da ich nach dem Aufbau schon wieder Müde war, hatte ich mir ein Nickerchen gegönnt wie das Cereal dokumentiert hat


Pünktlich zum Abendessen bin ich dann wieder verwacht und es gab dann lecker Pulled Pork Burger.

Päddy und sein Bruder hat im Laufe der LAN für alle Cupcakes gebacken. Mit und ohne Spezialzutat


Was wir sonst noch alles an Essen gemacht haben seht ihr auf den restlichen Bildern in der Gallery!
Am Samstagabend hatten wir nicht selber gekocht, sondern haben Cordon-Bleu bestellt in der Eisenbeiz.

Yoshi fands sehr lecker!


Für die Turniere war ich Zuständig. Allerdings ist das Timing immer so eine Sache, da es meistens mit den Essenszeiten in Konflikt kommt oder die Leute sonst wie beschäftigt sind oder gerade kein Bock auf das Turnierspiel haben.
So hat das Mario Kart Turnier auf der Switch am ersten Abend nicht stattgefunden, da sowieso alle mit etwas anderem beschäftigt waren.
Am Samstag konnten wir dann doch eine Partie Quake 3 Arena veranstalten.

Dafür hatten alle ausserordentlich Bock auf Tower Defense. Die eine Map Green TD Mega Circle die wir schon seit Jahren nicht fertigschaffen, weil die einen zu low sind und nicht wissen wie korrekt bauen oder es dann gametechnisch zu fest laggt weil zu viele Creeps auf der Map sind. Aber irgendwann werden wir diese Map dann doch noch besiegen!


Am Sonntagabend hatten wir dann noch eine Runde Blur gespielt. Ein Autospiel ähnlich wie Mario Kart, aber mit realen Autos welches im LAN spielbar ist.
Allerdings gibt es dort einen Bug, dass manchmal gewisse Spieler nicht auf den Host joinen können. Dann muss der Host gewechselt werden. Dies ist dann aber auch keine Garantie, dass es dann funktioniert. Nach einer gefühlten Stunde ausprobieren haben wir dann trotzdem gestartet auch wenn nicht alle teilnehmen konnte.

Die nächste LAN-Party ist dann wieder nach Weihnachten und vor Sylvester. Wo wir hoffentlich wieder ins Salon Rouge gehen können.