Habe ein neues Tool entdeckt mit dem man auf seinen VMware ESX (i) Datastore zugreifen kann, ähnlich wie mit WinSCP.
Veeam FastSCP ist viel schneller als über WinSCP und komfortabler zum Dateien verwalten als auf dem vSphere Client.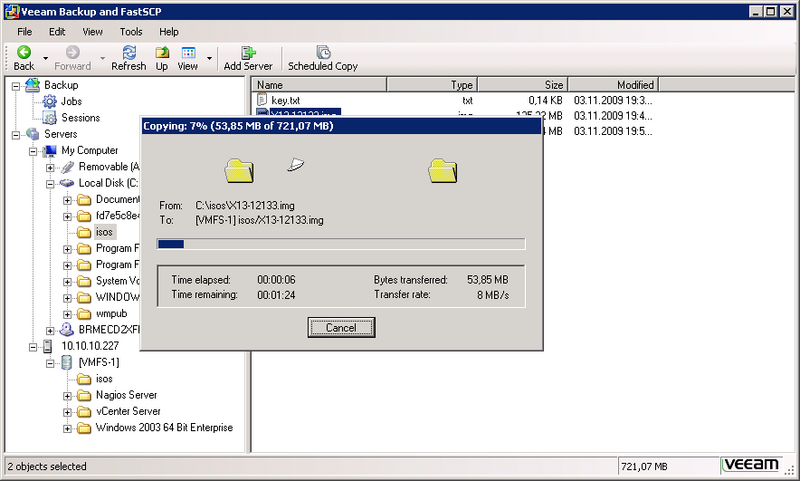 Fast VM / File Transfer
Veeam FastSCP can copy files over 6 times faster than WinSCP and other SCP-based tools as it uses full network capacity. The Veeam FastSCP engine also features traffic compression and empty block removal for best file copy performance.
Secure Connection
Veeam FastSCP uses SSH as a control channel to generate a one-time username and password for each file transfer session. Veeam FastSCP does not require putting ESXi into "unsupported" mode or compromise its security by enabling additional services.
Simple ESX File Management
Veeam FastSCP has a Windows Explorer-like user interface familiar to any Windows user. Just run it on your Windows machine and start copying – it doesn't require any additional ESX or ESXi reconfiguration.
FastSCP provides a fast, secure and easy way to manage files and bulk copy VMs across your VMware ESX environment.
Veeam FastSCP is the de facto standard for ESX file management, now with support for ESXi. FastSCP allows users to copy files from ESX to Windows, Windows to ESX, or directly ESX to ESX. FastSCP is the simplest and fastest way to move VMs and templates between datastores or to deliver ISO files to ESXServers.
NEW: Update 3.0.3 includes full VMware vSphere 4.1 support
Integration with Veeam Backup
Do more from the same console. FastSCP is integrated with Veeam Backup – the #1 backup and replication solution for fast recovery of your VMware Infrastructure. To download a trial license and learn more about Veeam Backup please click the link above.