Hardware Ausgangslage
Als kleines spass Projekt habe ich mir bei ALLNET.CHINA ein QUAD SATA KIT for Raspberry PI 4 bestellt um damit ein kleines Desktop NAS zu bauen. Das System basiert auf einem Raspberry PI 4 mit einem 4x SATA to USB Adapter. Dieser ist mit 4 Stück 2.5" 2TB HDDs bestückt.
https://shop.allnetchina.cn/pr…t-case-for-raspberry-pi-4
Software Ausgangslage
Als Basissystem habe ich ein Raspberry Pi OS installiert. Zur einfachen Verwaltung habe ich Openmediavault (OMV) https://www.openmediavault.org installiert. Dies in der aktuellen Version 5.5.11.
Das RAID Problem
Mit den 4 HDDs wollte ich ein RAID 5 erstellen. Unter «RAID Management» werden die HDDs aber nicht angezeigt.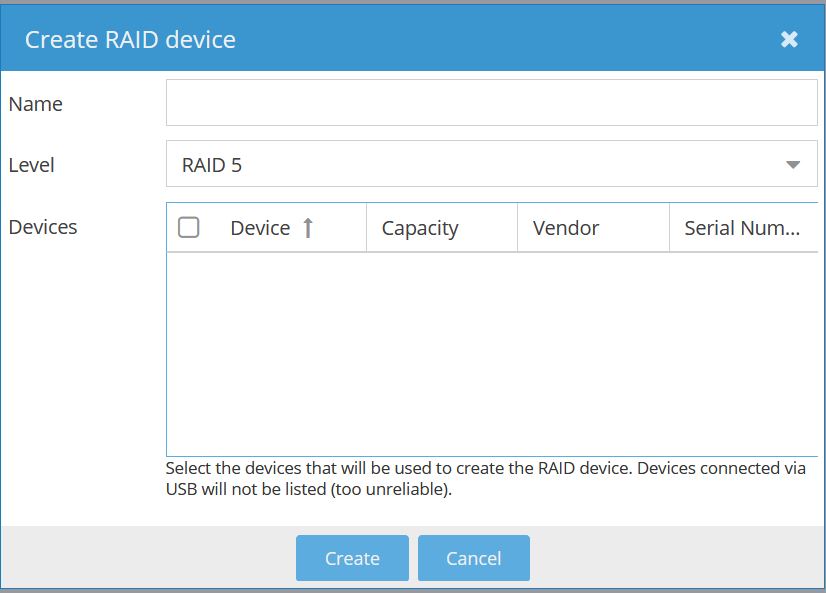 Der Text «Geräte die via USB angeschlossen sind werden nicht angezeigt (Zu unzuverlässig)» (Original Text: Devices connected via USB will not be listed (Too unreliable).) gibt einen Hinweis darauf weshalb hier keine HDDs angezeigt werden.
Bemerkung am Rande:
Unter «Storage > Disks» werden alle 4 SATA HDDs korrekt angezeigt und es ist möglich diese unter «Storage > File Systems» einzeln zu formatieren und zu mounten.
Offensichtlich ist es also nicht möglich direkt im OMV Interface ein RAID zu erstellen. Dies muss man also manuell in der Konsole erledigen.
RAID erstellen
Am besten macht man sich mittels folgendem Befehl kurz ein Bild über die Speicherlandschaft.
In meinem fall wurde das RAID mit folgendem Kommando erstellt. Natürlich kann durch andere Parameter auch ein RAID 1 oder anderer Level erstellt werden.
sudo mdadm --create --verbose /dev/md/raid5 --level=5 --raid-devices=4 /dev/sda /dev/sdb /dev/sdc /dev/sdd
sudo (Anforderung Root rechte)
mdadm (manage MD devices aka Linux Software RAID)
--create (Kreieren)
--verbose (Erweiterte Status Ausgabe, optional)
/dev/md/raid5 (Pfad /dev/md/ und Name, in diesem Fall «raid5»)
--level=5 (RAID Level, auch 1, 4, 5, 6, 10 etc. möglich)
--raid-devices=4 /dev/sda /dev/sdb /dev/sdc /dev/sdd (Anzahl HDDs die für die Erstellung genutzt werden sollen und wie diese 4 HDDs intern adressiert sind /dev/sda etc.)
Den aktuellen Fortschritt kann man sich wie folgt ausgeben lassen.
Der Erstellungsprozess kann dann übrigens bequem im OMV Webinterface unter RAID Management verfolgt werden. Das anschliessende formatieren und mounten kann auch über das Webinterface erfolgen.
In meinem Fall hat die Initialisierung des RAID rund 6-7 Stunden in Anspruch genommen.
Persönliche Meinung
Zum einen ist es mir klar, dass eine effektiv per USB-Kabel angeschlossene externe HDD eher mal versehentlich ausgesteckt werden kenn, und danach die daten auf dem RAID möglicherweise unwiederbringlich verloren sind. Bei meiner Konfiguration ist dies aber klar nicht gegeben.
Deshalb finde ich es gerade auch für weniger Linux erfahrene Benutzer schade, dass man dann für solche Aktionen doch in die Konsole wechseln muss. Mit einer Warnung die auf die Risiken von (externen) USB HDDs hinweist und bestätigt werden muss, hätte der OMV Anbieter meines Erachtens die Sorgfaltspflicht gegenüber dem Anwender auch erfüllt.